Top Halter Sires of 2022
These are the leading halter sires of 2022. Find the top bloodlines dominating the halter pen.
What are today's top halter bloodlines? These statistics, powered by the American Quarter Horse Association's QData, answers that. This data was compiled from January 1 to December 31, 2022. The figures represent offspring earnings, number of money earners, average earnings and leading money earner for 2022.
View the leading halter sires of 2022:
10. RH Virtuous
2014 bay (RH Stars And Stripes - Can Be Classical by A Classical Mister)
Offspring Earnings: $69,393
9. PF Premo
2011 chestnut (MH Supremo - Ima Credible Miss by Wincredible)
Offspring Earnings: $83,548
8. FG Born Legacy
2016 buckskin (FG A Tru Fella - I Execute Class by Execute)
Offspring Earnings: $91,038
7. Trillions
2017 sorrel (My Intention - Classiest Lady by I Gotta Cool Secret)
Offspring Earnings: $92,520
6. Urge
2015 palomino (Telling - Cool Love Connection by I Gotta Cool Secret)
Offspring Earnings: $95,214
5. Evinceble
2017 bay (Mr Elusive - Ladies N Lace by Very Cool)
Breeder: David Williams of Mansfield, Texas
Owner: Scott and Kelly Trahan of Dallas, Texas
Offspring Earnings: $5,479
Money Earners: 22
Average Earnings: $120,538
No. 1 Money Earner: Broadway, 2021 bay filly out of Intended Too by My Intention, $30,182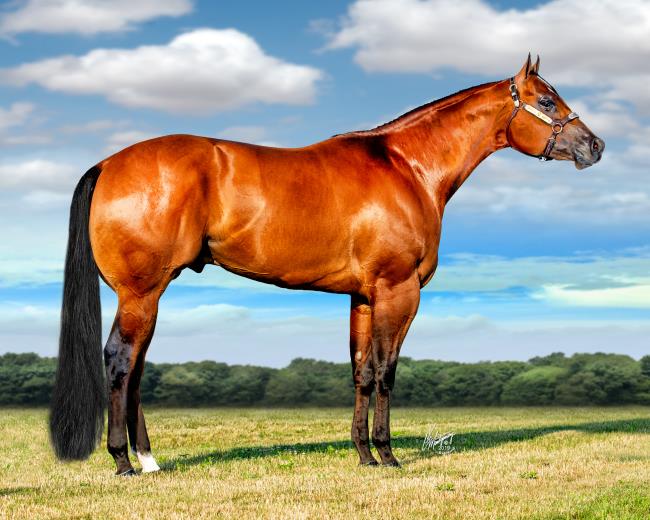 Evinceble
4. Secret Gunfighter
2011 chestnut (Western Gunslinger - Top Secretina by The Top Secret)
Breeder: Donna King of Crescent City, Florida
Owner: Karry Voss of Pocahontas, Illinois
Offspring Earnings: $200,870
Money Earners: 30
Average Earnings: $6,696
No. 1 Money Earner: Es Bonita, 2022 bay filly out of Paid Benefits by Self Employed, $29,233
3. Very Cool
2008 sorrel (Te Coolest - Very Sexy by Image of Kid)
Breeder: Gerri Leigh Pratt of Winston-Salem, North Carolina
Owner: Terry Bradshaw of Thackerville, Oklahoma
Offspring Earnings: $267,988
Money Earners: 46
Average Earnings: $5,826
No. 1 Money Earner: Aron Rodgers, 2022 sorrel colt out of Got My Sass On by My Intention, $22,725
Very Cool
2. My Intention
2006 chestnut (Playgirls Conclusion - RPL My Te Touching by Touchdown Kid)
Breeder: Bitter Lake Quarters and Paints of Tuttle, Oklahoma
Owner: Jim and Georgia Snow of Quinlan, Texas
Offspring Earnings: $358,505
Money Earners: 62
Average Earnings: $5,782
No. 1 Money Earner: Quinlan, 2022 colt out of Shez Pure Elegance by Heza Secret Agent, $33,905
My Intention
1. Execute
2004 sorrel stallion (Mr Touchdown Kid - Forever Coolest by Coolest)
Owner: Carolyn Stewart of Ramona, Oklahoma
Offspring Earnings: $443,739
Money Earners: 30
Average Earnings: $14,791
No. 1 Money Earner: KR Peppermint Patty, 2022 sorrel filly out of Chocolate Kande by De Renzo, $94,779
View the QData Money-Earners Leaderboards.
The free QData Leaderboards, from the QData Database, are updated weekly and include the top 50 Money-Earners, Sires, Dams, Grandsires, Owners and Breeders in 16 different event groups for both all-time and yearly leading.
Sortable columns allow you to see leaders by age and other filters. Plus, stallions subscribed to AQHA's partner service, QStallions.com, are highlighted on the leader lists and linked to their QStallions page when their names appear.
View more American Quarter Horse stallions at QStallions.com.
QStallions.com is a trusted source of data for both mare and stallion owners:
Stallion photos, videos, pedigrees and more, including catalog-style pedigree.
Earnings and performance records updated weekly for stallions and offspring.
Proven crosses feature to determine successful mare-stallion crosses.
Data is fully vetted before it's posted.
Easy and quick to access.
If you are interested in learning more about stallions near you, use the Stallion Locator to find stallions near you. Learn more about QStallions and how to list your stallion today!